SOLIDARITE Lycénnes nigérianes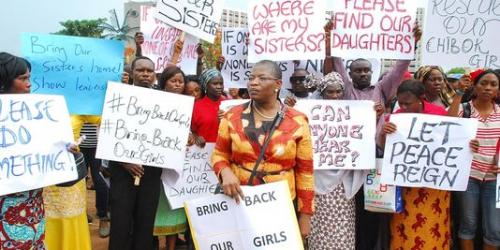 RASSEMBLEMENT UNITAIRE PARISIEN MARDI 14 MAI 2014 à 18 h

L'ancienne ministre de l'éducation nigériane Obiageli Ezekwesilieze (au centre), conduit une marche pour demander plus d'efforts pour retrouver les dizaines de lycéennes enlevées le 14 avril.
LAGOS MAY 3 rd 2014

CAN ANYONE HEAR ME ?

PARIS MAY 13 th 2014

YES,WE CAN HEAR YOU !

FREEDOM FOR THE GIRLS
NOW !

EDUCATION FOR ALL !
NO SLAVERY !
NO FORCED CONVERSION !
DOWN WITH TERRORISM !

DOWN WITH BOKO HARAM !